---
8587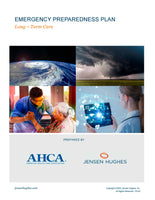 The Emergency Preparedness Program Best Practice Guidebook for Long Term Care is designed to assist organizations in applying best practices and managing compliance. It is a comprehensive tool intended to assist Long Term Care organizations in developing and maintaining an effective Emergency Preparedness Program.  The guidebook itself serves as a best practice template.  Therefore, to be properly utilized, the guide will require a comprehensive review and site-specific tailoring.  In many cases, footnotes have been utilized throughout the guide to prompt locations where facility-specific tailoring will be required. 
Hurricanes, floods, violence, and other disaster events have led to a continued focus on healthcare facility disaster preparedness and the way all staff must act during such an event. The decisions made by the executive director, facilities managers, and all staff members within a healthcare organization are vital in preserving the continuity of operations, as well as resident/patient safety within their facility.  Additionally, should they occur, these staff members must know how to guide the affected facility in response to a variety of emergencies.  Whether acting as the incident commander or supporting that position in a multitude of ways, staff must be able to provide guidance to emergency responders, offer logistical support, and plan for short-term needs and long-term recovery as a team. All managers and staff must also understand the language and structure of (and operate with) local, state, federal, and nongovernment resources, as well as their confines, to persevere through the most difficult life- and facility-threatening situations to maintain a safe environment and continue care through to the recovery stage.
PLEASE NOTE: THIS IS A ZIP FILE, NOT A PDF. AFTER PURCHASING, YOU WILL BE ABLE TO DOWNLOAD THE FILE A MAXIMUM OF THREE TIMES. SAVING THE DOWNLOADED FILE IS STRONGLY RECOMMENDED. 
*Please note, there are no refunds available for this e-product*
Published August 2022
Downloadable Size - 5.20 MB
Page Length - 559