---
8596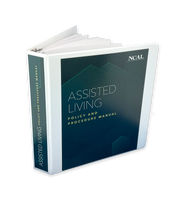 The NEW 2023 Assisted Living Resource Manual, developed by the National Center for Assisted Living (NCAL) is your compass for seamless day-to-day operations.* This customizable, digital resource offers carefully designed templates allowing you to tailor your assisted living policies, procedures, and forms according to your unique needs. Comprehensive and easy to navigate, this manual includes a complete set of policy templates on critical topics such as Infection Control; Medication & Treatments; Orientation & Training, that can be adapted to your specific community. Streamline your operations and enhance your Assisted Living practices with the Assisted Living Resource Manual. Order now and set a new standard for excellence!
Once you place an order, you will have immediate access to the manual. We encourage you to download and save the manual as soon as you receive it. Your order also includes a complimentary binder (and 10 tabs) to help you create your own manual. These items will ship automatically once your order is placed.   
Key Features
Immediate digital access to downloadable, customizable policies, procedures, and forms (in Word and Excel), divided into 10 topic-specific chapters.
A high-quality 3-ring binder for housing your comprehensive manual.
3-hole punched tabs, ensuring effortless navigation through your customized policies and procedures.
A template for customizing the cover for your Assisted Living policies and procedures manual.
Sample Employee Records Policy
Sample Medications and Treatments Policy
*This manual offers general guidance and customizable templates for Assisted Living policies and procedures. We strongly advise you to consult with your state affiliate for state-specific policy recommendations and guidance pertinent to your jurisdiction.
PLEASE NOTE: THIS IS A ZIP FILE, NOT A PDF. AFTER PURCHASING, YOU WILL BE ABLE TO DOWNLOAD THE FILE A MAXIMUM OF THREE TIMES. SAVING THE DOWNLOADED FILE IS STRONGLY RECOMMENDED. 
*Please note, there are no refunds available for this e-product*