---
8579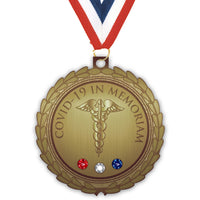 Commemorate those who have lost their lives to COVID-19 with a special medal of remembrance for their survivors. These unique medals are 2.5 inches in diameter and feature raised and recessed brass with 1/5" decorative stones in red, white, and blue. Each medal is displayed on a red, white, and blue striped ribbon.
To receive free shipping, enter code HONORS at checkout.
A COVID-19 Honors Program Communications Packet with a ceremony guide, media templates, and template letters to staff will be sent to you in a separate message once you place your order.